Introduction- Best Bicycle Seat for Hemorrhoid Sufferers
Cycling is a recreational activity with innumerable physical and psychological benefits. It can strengthen the heart, lungs, and muscles, protect your body from illness, and eliminate stress.
But when you're suffering from hemorrhoids, cycling can be an uncomfortable and painful ordeal. Fortunately, there are ways to manage the pain and discomfort from hemorrhoids and make cycling much more enjoyable – using bicycle seats designed for hemorrhoids sufferers.
How Do Hemorrhoids Affect the Cycling Experience?
Hemorrhoids (also known as piles) are swollen or inflamed veins in the anus and lower rectum. They can be painful, itchy, and in some instances, bleed.
Contrary to what many people think, cycling does not cause hemorrhoids – but it can worsen an already existing hemorrhoid. That's why there are specially designed bicycle saddles that allow you to continue enjoying exercise without aggravating the condition.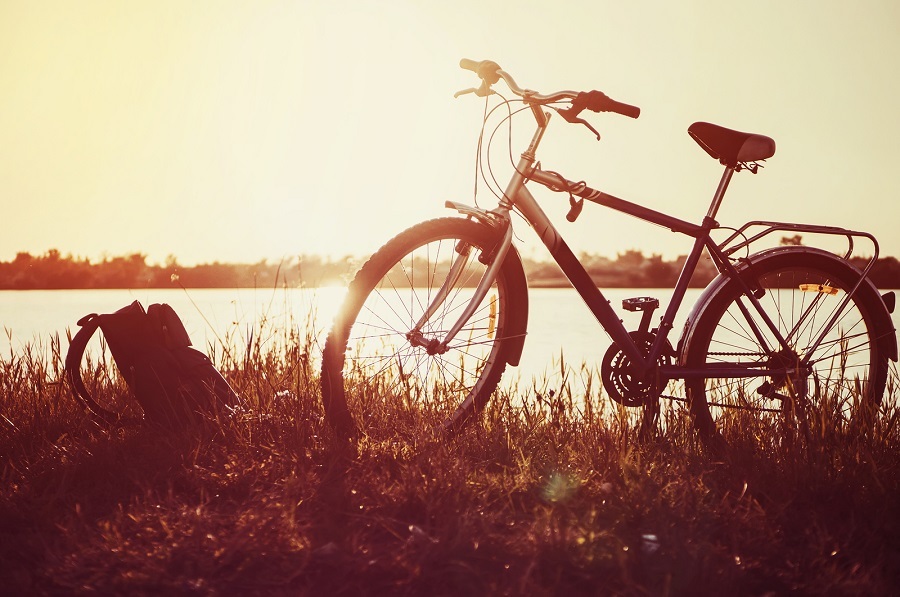 What Features of Bike Seats Should You Find if Suffering from Hemorrhoids?
If you're suffering from hemorrhoids and want to transform your riding experience, here are aspects you should consider when choosing the bike seat.
A bike seat with a hole and diversion groove at the center is essential as it reduces pressure on the rectal area and allows airflow, thus enhancing comfort.
If you suffer from hemorrhoids, you need to consider the saddle padding for extra comfort. Since the sitting bones of each person are different, it's crucial to look for a seat offering support that aligns with your body.
The type of cushion is another crucial item to consider. The most suitable cushions for persons with hemorrhoids are gel and foam, as they offer both support and comfort.
The Best Bicycle Seats for Hemorrhoids Sufferers
Without further ado, here are our top choices for bicycle seats is you are suffering from hemorrhoids.
#1. Giddy Up! Memory Foam Bike Saddle
Made from high-quality artificial leather and full of polyurethane foam, the Giddy Up Memory Foam Bike Saddle offers you a soft and comfortable ride. It features a shock-absorbing ball to ensure a smooth ride on rough terrain.
The 8.3″ x4.3″ x11″ (21 x 11 x 28 cm) saddle comes with a reflective band that enhances visibility when riding at night. If looking for a bike seat that offers great value and does its job, then the Giddy Up is your best bet.
The pros:
Waterproof protection cover
Easy to install
High elasticity
Shock absorbers
The cons:
Sometimes the adapter may come off
#2. SGODDE Comfortable Bike Seat
With dimensions of 10.4"x6.24"x3.12″ and weighing only 7.7 oz (218g), this super lightweight design is ideal for long commutes. It's made with high-quality foam and gel padding, coupled with non-slip waterproof PU leather that wicks away sweat and prevents slipping when it is raining.
The SGODDE bike seat comes with double standard stainless-steel rails that are highly resistant, and offer a strong shock absorption effect. It's also affordably-priced.
The pros:
Ergonomic design
Wear-resistant
Ultra-fiber leather
The cons:
Customer support isn't easy to access
#3. Bluewind Memory Foam Waterproof Bicycle Saddle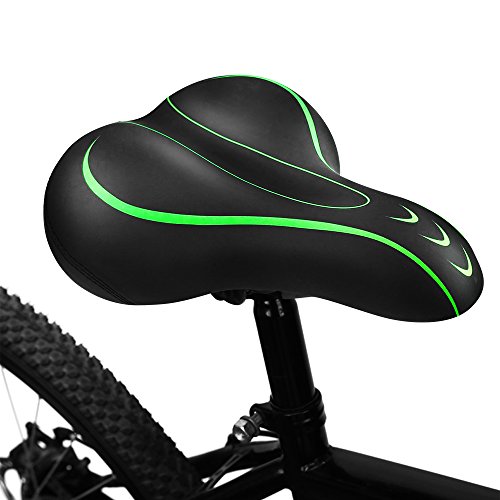 This saddle is made of high-density memory foam and comes with a double anti-vibration ball, offering maximum shock protection. It measures 265mm x 210mm x 115mm (0.27 x 0.21 x 0.12 inches) and weighs 545g (19.2 oz). The surface material is made of waterproof artificial PU leather that is wear-resistant.
Like the previous saddle, the Bluewind is priced very affordably.
The pros:
Dual shock absorbing spring ball
Ergonomic design bike seat
Easy to mount and universal fit
Comfortable thickened saddle
The cons:
Without a cut-out channel, the groove doesn't have proper ventilation
#4. Bikeroo Large Bike Seat Cushion
This bike seat cushion comes with a soft and thick gel layer that will absorb shock and ease any pain and soreness. Measuring 11 x 10 inches (28 x 25 cm), the seat cover is made to fit perfectly wide bike saddles and helps you ride in great comfort.
Its cost is pretty affordable too; however, note that it is only a cover, and you would still need a standard bike seat. Regardless, we think it's a good addition to have- especially if you own multiple bikes, or enjoy going for spin cycling sessions at your local gym.
The pros:
Locking drawstring to fix securely onto a bike saddle
Supportive gel and soft foam
It comes with a protective carry-on bag for easy storage
The cons
Designed to fit over smaller saddles
Conclusion
If you're suffering from hemorrhoids and looking for seats that will perfectly suit your needs, you can't go wrong with the seats listed here. They're designed to allow you to cycle for long distances without feeling numbness, itchiness, or pain.
The Giddy Up Memory Foam Bike Saddle is especially great for individuals who feel they're overweight and want something that will comfortably support their bottom and offer flexibility.
But if your budget is more limited and you want a seat that will offer the same comfort level, you may want to choose the SGODDE Comfortable Bike Seat.