Introduction- Best Cadence Sensor for Turbo Trainers
Bicycle computer technology has advanced quite a bit in a short time. Bikers are always looking for ways to optimize performance, so it should come as no surprise that there are many gadgets that could help with this.
A cadence sensor is a gadget that, as its name suggests, records pedal cadence. Pedal cadence measures the speed at which you move the pedal cranks, expressed in revolutions of a pedal stroke per minute (RPM).
If you do any form of bike training, including on turbo trainers at home, getting a cadence sensor is a good way to track your efficiency.
Let's look at some of the new cadence and speed sensors. We're going to cut through the chaos so you can find the best sensors for your ride.
All of the sensors we mention are waterproof, wireless, and mount directly to the bike. Speed sensors mount to a wheel hub. You either enter the wheel circumference manually or let the bike guess the measurement for you.
Speed is then measured by how quickly the wheel spins. Cadence sensors are usually mounted on the crank arm. Their data output is shown in RPMs or Rotations Per Minute.
Used in conjunction with a bicycle computer and heart rate monitor, these sensors can give you very reliable feedback for your training sessions, allowing you to further fine-tune your training without the added expense of a power meter.
Our recommendations are based on several criteria.
Connectivity. While most manufacturers claim nearly universal connectivity, they may not live up to the hype.
Accuracy You can't train smart if your sensor is giving you false data.
Battery Life. You can't get accurate data on the weekends if your sensor is running out of juice after your weekly lunch break rides.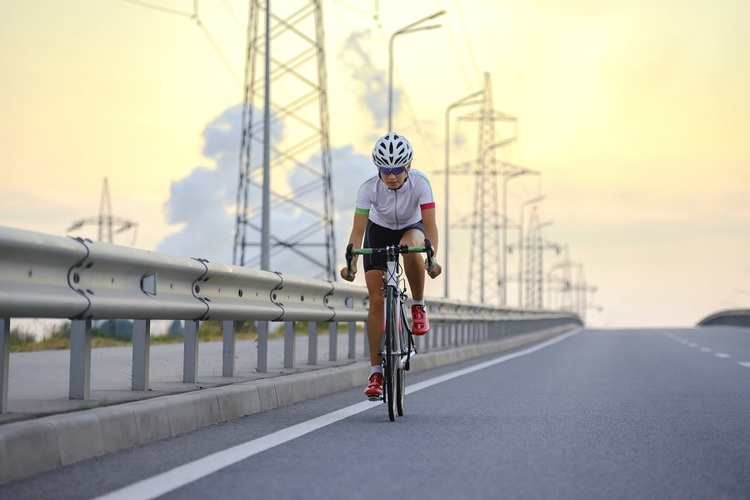 Our Recommendations for Cadence and Speed Sensors
Wahoo RPM Speed and Cadence Sensor
Wahoo Fitness is serious about developing training devices that work well together and play well with others. Their RPM Sensor Bundle gets rave reviews from beginners to seasoned professionals. The speed sensor is your best bet for tracking actual distance when GPS tracking is spotty.
It doesn't connect directly to Strava but will upload the data it has collected.
It will work with Bluetooth and ANT+ so you can connect it to your bike's computer or a smartphone. It's a very affordable component when putting together a Zwift-compatible trainer on a budget.
Pro:
Con:
Connectivity can lag when switching power on Zwift.
Garmin Cadence Sensor 2 (Speed and Cadence Sensors Bundle)
You can buy the Speed Sensor 2 and Cadence Sensor 2 separately, but you'll save a chunk of change if you buy the bundle.
Like other sensors on this list, the speed sensor wraps around either the front or rear wheel hub. If you're riding on a trainer, always attach it to the rear hub and when riding an e-bike, attach it to the front hub.
The cadence sensor wraps around the left-hand crank arm. Anywhere on the crank is fine as long as it doesn't rub against anything while it's in motion. While Garmin claims it can detect the wheel size automatically, go ahead and enter it manually.
It's compatible with the Edge® cycling computer along with an extensive list of other Garmin devices.
When used with Garmin watch or cycling computer, it utilizes ANT+ technology and GPS data from Garmin. When used with other apps, it pairs via Bluetooth. The variance without GPS has been measured at 2.5%.
You can connect the speed sensor with your phone and Garmin Connect Mobile.
The speed sensor doesn't remain on continuously. When you take a break, it will go into sleep mode and upload to your phone later. It falls asleep after about four minutes.
Pro:
Pairs with most Garmin fitness devices.
Cons:
Connectivity can be an issue with non-Garmin products.
The battery shipped with the sensor is often reported to be dead.
CYCPLUS C3 Speed and Cadence Sensor
The CYCPLUS C3 ships two of the same sensor in the bundle. You toggle a switch inside the battery compartment to choose either speed or cadence. CYCPLUS ships two sensors in the package, which means you get both. They're secured with rubber bands and double-sided tape.
They work with Bluetooth 4.0 and ANT+ technologies.
We like what we see from the CYCPLUS brand. Their products are strong, and they look to be positioning themselves as an affordable alternative to brands like Wahoo and Garmin.
Pros:
Inexpensive.
Works with over fifty Smartphone apps and most Garmin devices.
Con:
There have been lags and drop-outs reported on the hub-mounted sensor.
Moofit Cycling Cadence Sensor
Moofit sensors are distributed by Wantacme. This is a surprisingly affordable pair of sensors. They ship with multiple sizes of rubber bands and use double-sided tape to attach to the crank and hub.
Moofit is capable of wireless transmission using BLE4.0 or ANT+ technologies. GPS units use ANT+ while smartphone apps will connect via Bluetooth.
Pro:
Works with the majority of mainstream fitness apps.
Con:
Due to an attempt by Wahoo at brand protection, only one Moofit sensor will connect to Wahoo devices at a time.
Best Cadence Sensor – Our Picks
The Wahoo RPM Speed and Cadence Sensor bundle is our top pick. We like the price and how the company is setting itself as a major player in the fitness technology industry. These sensors have incredible accuracy, and their connectivity to third-party apps is impressive.
While Garmin has been on top for a long time, they are starting to lag behind Wahoo. If you need to cut corners, go with the CYCPLUS 3 duo over Moofit. CYCPLUS is looking to establish its brand and we think it has lots of growth potential within the cycling and fitness tech space.