By Peter Reynolds
As practical as they may be, Lycra shorts aren't exactly flattering.
Don't get me wrong; Lycra exists for a reason. If you're smashing up the Tour de France or you like to ride as quickly as possible over the weekend, then wearing high-performance cycling gear like Lycra shorts can absolutely make sense.
However, if you're just toddling along on your commute to work, it could well be overkill.
In decades gone by, cyclists had to choose between style and function. But today, that line is blurred. There's so much stylish everyday-looking gear you can find that also boasts discreet functionality for cycling.
Indeed, there are many brands now specializing in providing good-looking shorts for summer cycling, boasting some of the benefits.
Better fit for cycling (higher back to prevent exposure)
Reinforced seams to reduce wear and tear
Deep pockets
Best Urban Cycling Shorts
Below is a compilation of the best urban cycling shorts around – the type of short that feels comfortable when you're riding about town, but also fits in nicely when you arrive at your destination, whether you're meeting friends, ambling around town or you enjoy a relaxed summer dress code for work.
Image: Chrome Industries
I recently reviewed these Chrome shorts and, I have to say, these might well be the best stylish cycling shorts I've ever come across.
Available in blue or black, these four-pocket shorts have a reinforced waist and gusset. They also dry extremely fast thanks to their blend of Nylon (94%) and Spandex (6%) – which is useful if you get caught in an unexpected summer shower, or you end up getting a bit sweaty on a hot day. They're also water and wind-resistant due to their DWR coasting.
These Chrome shorts have a flattering straight leg fit, and nobody would ever guess they were "cycling shorts" unless you told them.
Image : Discerning Cyclist/ Rapha
Rapha is becoming a bit of a "love 'em or hate 'em" brand among the cycling community. There's no doubt their gear looks great (it really does), but there is a hefty price to pay.
The Randonnee Shorts are a staple of Rapha's urban collection, and, like the Chrome Madrona shorts, they absolutely do not look like they've been built with cycling in mind at first glance.
However, when you come to wearing these shorts, you'll quickly appreciate just how good the build quality is. They are slim fit and very lightweight and handle heat extremely well with the breathable and stretchy fabric they're made out of. Simply beautiful shorts.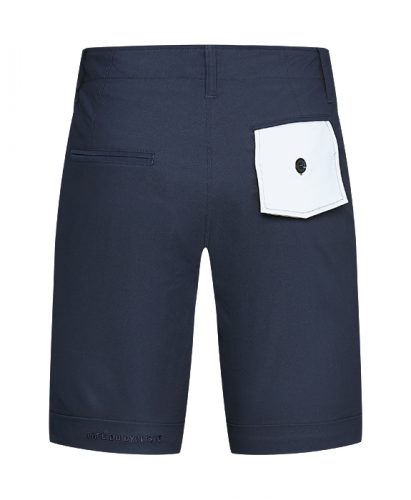 Image: Café du Cycliste
Famed for their stylish performance gear for cyclists, Café du Cycliste has also branched out a little bit into "urban wear," and their Paulette shorts are one of their highlight pieces.
The French know a thing or two about style, and these shorts – created on the stunning French Riviera – are certainly great-looking.
The Paulette shorts are made from a blend of cotton (68%), polyamide (29%) and elastane (3%), and the result is a stretchy, breathable and lightweight pair of shorts.
One special feature of these shorts is that they also have a special reflective flap that hides away in the back pocket during the day but can be taken out at night to give you a bold piece of reflective attire in case you get caught cycling in the dark.
And there we have it… three stylish pairs of cycling shorts that are a great alternative to wearing Lycra. Do you have a favorite pair of cycling shorts? Comment below!
About the Author:
Pete is the founder of Discerning Cyclist, an urban cycling blog devoted to helping people "ride in style."