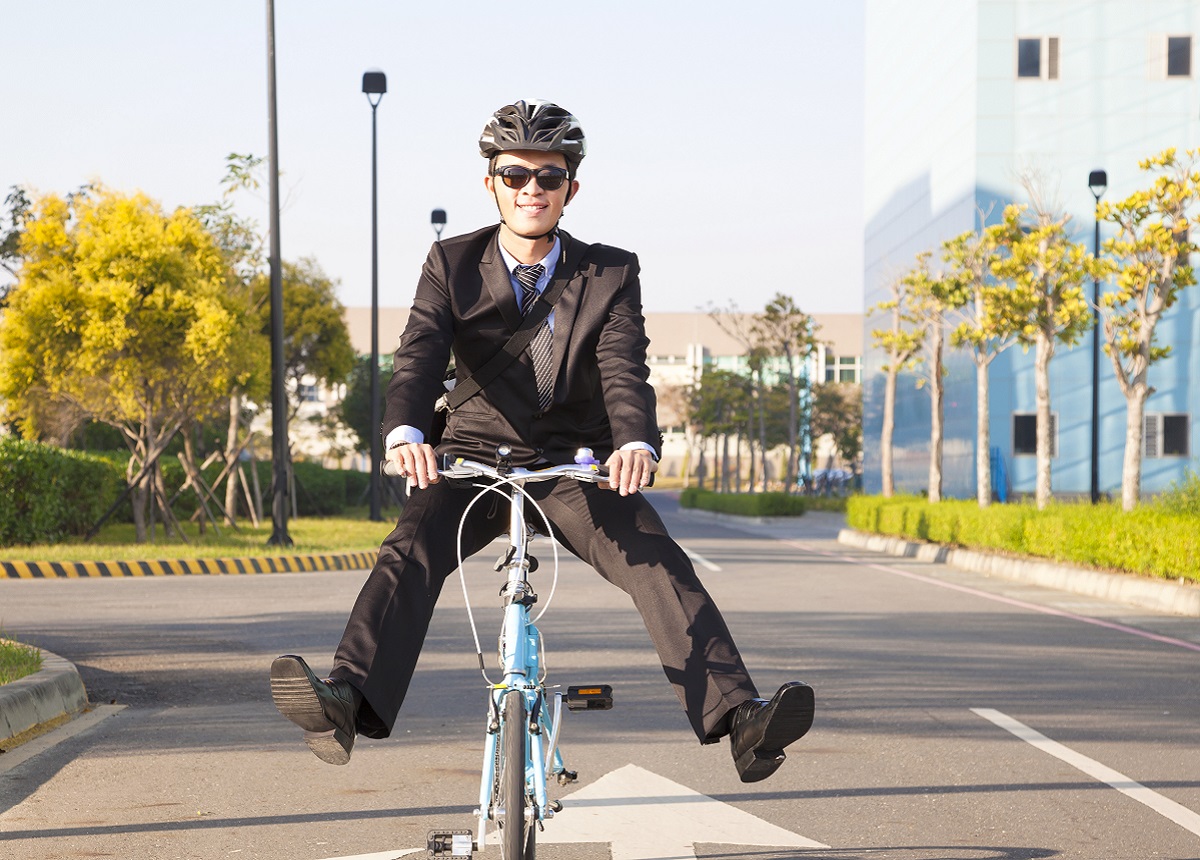 By Alex Bristol
When offices reopen, and the world returns to normal, it's true to say that now is as good a time as any to practice great, renewed habits.
One of these habits includes caring for ourselves a little more kindly than we may have before. Of course, intensive new hobbies and perfecting each day are sometimes outside of the question, depending on your schedule, and so we would recommend focusing on habits that you can sustain, and that are regularly achievable.
Perhaps one of these fantastic new practices you could adopt is cycling to work each day. Cycling grants you the means to burn calories, improve your joint health, strengthen your legs and core, and can also serve as a meditative hobby.
Not only this, but you needn't have to sacrifice arriving at the office in a comfortable, time-appropriate manner, which can be harder to achieve when walking or jogging to work.
In this article, we hope to explore a few worthwhile tidbits of advice, allowing you to make a success of your renewed morning health habits. After all, arriving at work fresh, full of energy, and with plenty of fresh air can be a radically positive change for most.
What Bike Do I Need?
It's important to equip yourself well before cycling to work because if you're to share the road with other road users, safety and practicality are essential principles to follow.
Flat Bar Vs. Drop Bar For Commuting
For instance, choosing between a flat bar vs. a drop bar can be a difficult process. A flat bar is often the handlebar setup you are familiar with, a straight or slightly curved line with two outstretched bars holding the brakes and other installed devices.
A drop bar, however, is the C-shaped outstretched bars that allow you to lean into the bike, helping you achieve better speed, and transfer more hip power into your pedal cycles.
Flat bars are usually more comfortable for shorter journeys, while long commutes can benefit from drop bars, as they are more aerodynamic and give you the chance to alleviate hand pain over the miles.
Are Single Speed Bikes Good For Commuting?
One question you may have when searching for a commuter bike that suits you is 'are single speed bikes good for commuting?' This is a wise question because often these bikes are cheaper (even at the top end of the spectrum) than regular shift-speed bikes.
Additionally, if your commute is along relatively flat terrain, you'll be able to ride your fixie quite comfortably thanks to the simple mechanics and lighter frame.  However, if having to undergo a range of terrain heights and if you wish for more advanced control over your bike, a shift-speed is the way to go, despite the extra necessary investment.
What Equipment Do I Need?
It's essential to utilize the right equipment and to place the right investment in your commute cycling habit. A safety helmet, riding gloves, sunglasses/a visor that works for you, and protective pads, if necessary, are a requirement.
Additionally, packing a high-visibility vest for the winter is also crucial. This can be coupled with reflective visibility lights to make it thoroughly clear you are using the road, no matter the light level.
Cycling Overshoes For Commuting
Cycling overshoes can also be a fantastic measure
of securing a strong grip on your pedals and protecting your work shoes from the elements or from harm. Overshoes cost anywhere from $30 – 60 and are an essential piece of kit, as they are easy to wear and provide you with the peace of mind necessary for road commuting.
Additionally, bringing along a water bottle, a safe pouch to hold your bag, and safety information should you require it (such as your contact information and next of kin) are all important protective measures when commuting. Remember, you're sharing the road with vehicles, and so it's important to plan for anything.
What Practices Do I Need?
Plan your journey! This can seem obvious if you've been commuting to the office for ten years, but you'd be surprised how much differently you engage with a route and road on a bicycle compared to a motor vehicle. Be sure to give yourself room for a route B or even C should you need to.
Familiarize yourself with traffic patterns. Additionally, learn the road hand signals for telegraphing your movements ahead of time. It's essential that you ensure other road users are aware of you before they come near you, and can plan for that.
However, we must never trust other road users to behave rationally, and so always maintaining awareness of the environment is important. And please, leave your headphones in the bag.
With this advice, we hope you can benefit thoroughly from cycling to work each day. When you notice your waistline improving and your physical fitness increasing, you can thank yourself for making such a positive change.